Having a warm, dry area in your yard for your pet especially if your dog must be outside for extended periods of time during cold or damp weather could mean building a doghouse.
Brian Haines at Diamond Home Improvement's lumber counter provides assistance and hints for building your own custom doghouse. Most important, he says, is to determine the size of the doghouse. If it's too small your dog will be uncomfortable and won't use the house. Too large and your dog will not be able to provide enough body heat to trap in the house for warmth. Consider making the house about 25% larger than your dog's measurements. Check out Dog House Sizing Guide online for information by specific breed. Another good measuring tool if your dog is crated, is to use the crate as a guide for building the doghouse.
Determine where in your yard you want to put the doghouse. Find a spot that is shady and where water doesn't pool after rain or watering the lawn. Fill in any holes. Accessibility for the humans in the dog's life is another factor to consider. Haines recommends putting the doghouse on blocks that are about 2" high to avoid damp soil rotting the floor over time. Be sure to use a level when you put the floor in place.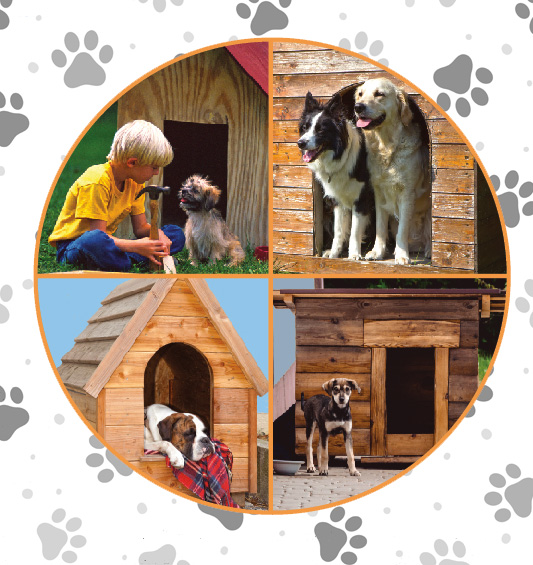 Doghouses can be as elaborate or as simple as you want. Almost any style house that can be built for people-living is possible for your dog. Do you want your doghouse to complement your house? Or do you have a dream house that you'd like to build for your dog? Is your dog more of a log cabin dweller? Or perhaps a Tudor castle? Haines can make a sketch of your dream doghouse, and then he'll develop a plan and create a materials list.
The supplies will depend upon the design of your doghouse and your budget. Cedar wood is a bit more expensive, but it holds up to weather well. Exterior paint is a must, and the roof needs to have some slope so water and snow will run off. If you don't have all the tools you need, check out the Klamath Tool Library (Klamath's Home & Outdoor Summer 2019 issue or www.klamathtoollibrary.org). Make sure that no nails stick through anywhere that the dog's body might touch. Before letting your dog cross the threshold, shake the doghouse to check for stability.
Other amenities you might consider for your pet's comfort include a heated bed, heated water bowl, a swimming pool for summer fun, a loft area, toy box and feeding bowls. You know your pet better than anyone. Providing pets what they like means they will use and enjoy their custom doghouse.