Some of the most spectacular days in Klamath County are nestled between November and March, when snow-covered mountains, trees and fields beautifully contrast against the vast, blue sky. Local outdoor enthusiasts and the Farmer's Almanac predict a snow-laden winter east of the Cascades. Cross-country skiers, downhill skiers and snowboarders are already looking forward to slapping on the equipment and making tracks. If your winter jam doesn't include skiing or snowboarding, check out these ideas to have snow much fun in and around the Klamath Basin.
Curling & Broomball
One of the amazing facilities we have in Klamath Falls, which most west coast towns our size do not have, is a 200 x 85-ft outdoor pavilion ice rink. What might surprise you is the Bill Collier Community Ice Arena located at The Running Y doesn't always require skates to get on the ice. Two family-friendly activities simply require comfortable shoes: Curling and Broomball.
Curling:  Ages 8 and older can be part of a 4-person curling team where they slide smoothly rounded 40-pound hunks of granite (the "stones") across the ice toward a target (a "button"). Curling offers a great mix of strategy, skill, socializing and competition. The ice rink staff offers Learn-to-Curl sessions. Or you can attend matches during the first 10-week session, which began in early November, to see what it's all about. If you love what you see, join session two by registering a team online at klamathicesports.org.
Broomball: This fast-paced game is a bit like hockey without the skates where your team tries to sweep a rubber ball into the other team's goal. Each team has a goalie and 5 other players. You wear athletic shoes, gloves and layered clothing. The rink provides the rubber ball, plastic brooms, elbow pads, and goal nets. Visit klamathicesports.org or the organization's Facebook page to spot upcoming broomball dates and times.
Snowshoeing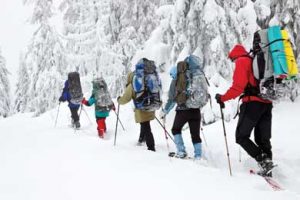 Outdoor Industry Association reports snowshoeing has grown 41% percent in the last decade. It's relatively inexpensive and easy compared to many other winter sports. Snowshoes allow you to blaze your own trail or follow a groomed path. Uphill, downhill or sideways. Renting snowshoes at Parker's Rod & Gun, The Ledge, or Klamath Basin Sports might be the least costly route until you determine whether the sport is for you. Purchase a quality pair of composite snowshoes for just over $100, or spend double for aluminum/titanium models.
Crater Lake National Park offers free ranger-guided 1 to 2 mile snowshoe hikes each weekend from December 8 through April 28, and every day from December 15 through January 6. They start at 1:00 pm, and last about two hours. This is a great way to see off-trail portions of the park, including the rim of Crater Lake.
Mike Angeli, owner of The Ledge, shared three other snowshoe hike options based on experience level:
Novice/Family Fun: Annie Creek Sno-Park located 40-45 miles northwest of Klamath Falls, just above Fort Klamath. You can break trail along the creek, explore as long as you wish and then backtrack to the park. Just steer clear of canyon walls and edges. Restrooms, fire pits and warming hut are available.
Intermediate: McLoughlin Warming Hut 6-mile hike. Park on the north side of Hwy 140 at Fourmile Lake Road. Hike slightly uphill about 2 miles and then follow signs to Mt McLoughlin Warming Hut, then traverse southeast back to your car.

Expert: Brown Mountain 7-mile strenuous snowshoe hike. Park on the north side of Hwy 140 about half-way between Fourmile Lake road and Summit Sno-park. Cross Hwy 140, then hike south, uphill toward Brown Mt. You'll have breathtaking views of Lake of the Woods, Fish Lake, Mt. McLoughlin and Klamath Lake.
Snowmobiling
Looking for a little more throttle? Diamond Lake Resort is conveniently located near 300 miles of groomed snowmobile trails. Just 5 miles from the northern border of Crater Lake National Park, Diamond Lake Resort provides easy access to some of the most impressive sites in Southern Oregon. Visiting Crater Lake on a "sled" allows you to see sites you would not see by car in the winter. Check out www.diamondlake.net for details about a combination cabin/snowmobile rental package as well as other rental options.
Tubing
Depending on snow-depth, there are a lot of great sites for slip-sliding downhill. For the cost of an Oregon Sno-Park pass and a saucer, tube, or toboggan, you can enjoy a day of sliding around on your bum, and laughing your head off. Do not sled on streets, no matter how tempting it might be. Instead, opt for off-road areas where there is plenty of room for a gradual landing area. Avoid landing areas near water, roads, fences and trees. Wear a helmet and bring extra gloves. One local favorite is Annie Creek Sno-Park where fire pits and a warming hut help make it a comfortable day for all. Hoofing it uphill each time is a great way to get exercise and wear out the kids.
If you want to avoid uphill exertion, take advantage of Diamond Lake's seven-lane snow tubing hill outfitted with a conveyor belt to transport you and your tube back to the top of the run. An all-day pass for $35 includes a tube and unlimited uphill rides. Other pass options are available. Diamond Lake also offers 3-hour Innerstellar Tubing Friday nights jazzed-up with music, laser lights, s'mores and cocoa. www.diamondlake.net
Birding Walks & Scenic Drives
During the winter months Klamath Basin is home to a variety of Eagles, Geese, Mergansers, Grebes, Herons, Egrets, and more. You may be surprised what you can see from your car on Stateline Road bordering the Lower Klamath Wildlife Refuge. Other easily accessible sites include the Link River Trail, and Lakeshore Drive. Visit www.KlamathBirdingTrails.com or call the Klamath Basin Wildlife Refuges (530) 667-2231 to get more information. You might also enjoy Wood River Wetland with its paved trail, where, in the winter months, you may spot dozens of Canada Geese, as well as a few Red-tail Hawks, Mallards, and Downy Woodpeckers. Visit ebird.com and look up the area you're planning to visit to see what birds you should expect. Audubon.org is another good online resource where you can familiarize yourself with different species' characteristics ahead of time, which will make field identifying easier. Take a couple pairs of binoculars or a scope or two so everyone gets a chance to see.
Swim Outdoors. Yes that's Right.
Ella Redkey Pool with its 85-degree geo-thermally heated water is open Monday through Friday from October to March, offering lap swim, open swim and even exercise classes. Check out the Aqua Power class, which is a mix of cardio and core strengthening in the deep end of the pool. The pool's winter highlight is the annual Santa Swim on Friday, December 6 from 6 pm – 9 pm. For just a few dollars, you can swim under the Christmas lights and hunt for holiday treasures in the pool. 541-273-1477. Located at 1805 Main Street.
Cozy-up in a Cabin
Unplug the kids this winter by staying in a rustic cabin at Rocky Point, Lake of the Woods, or Diamond Lake Resort. If you're lucky, the cabin will be outside your cell phone provider's service area, which will give you more opportunities to enjoy great conversations, a game of cards, snowman-building competitions, and roasted marshmallows. If you go to Lake of the Woods, visit the Lake House Restaurant to order a freshly baked berry cobbler to share. It'll warm you up from the inside out.
KNOW BEFORE YOU GO
Permit Requirements: An Oregon Sno-Park permit will likely be required where ever you choose to park your vehicle before snowshoeing, tubing, snowmobiling or cross-country skiing. There are three types of permits: annual Permit for $25; 3-Day Permit for $9; 1-Day Permit for $4. You can buy them online here. or at the following local stores: Bi-Mart, Parker's Rod & Gun, Sportsman's Warehouse, and Klamath Basin Equipment. They're also available at Lake of the Woods Resort.
Safety First: Outdoor recreation and survival expert Mike Angeli recommends the following safety tips for outdoor winter fun:
Stay on someone's radar. Always tell someone where you plan to go and when you expect to return.
Map it Out: Study a map, talk to experts and make sure you know what you're getting into before you venture out. Take a paper map with you. You can't rely on cell service to access map apps.
Be prepared with the right gear: Take a compass, headlamp, water (and water tablets), food, knife, fire starter, emergency blanket, sunglasses and sunscreen (yes, even in the winter!) with you in case you get lost, trapped, hurt, or unexpectedly detained.
Wear layers of clothing designed to keep you dry and warm, and bring extras. Your outerlayer must be waterproof from head to fingers to toes. Underneath layers should be made from moisture-wicking material rather than cotton. Angeli warns that cotton soaks in moisture and takes a very long time to dry, both of which will make you feel colder quicker. Moisture-wicking fabrics include performance synthetics and certain natural-fiber alternatives such as bamboo or coconut fiber. Did we mention you shouldn't wear cotton in the snow? Bring extra gloves or glove liners, extra socks and one more hat because these items tend to get extra wet from snow and sweat. And remember: no cotton.
Written by Terri Cline