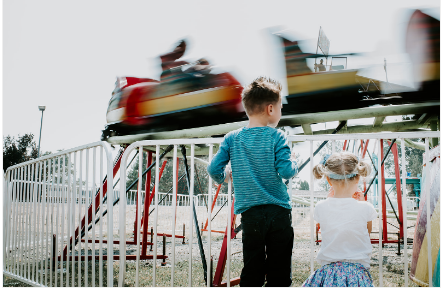 Tulelake-Butte Valley Fair Ÿ September 5-8
The Tulelake-Butte Valley Fair is the largest annual event held in the Klamath Basin, designed as a fair where "our friends from over the line in Oregon could meet and visit and compete and enjoy each other." The week following Labor Day, over 40,000 people of all ages and backgrounds relish in the carnival rides, Kids Barnyard Rodeo, Jr. Livestock Auction, live music, and loads of fair food. No one leaves without sipping on a freshly squeezed lemonade while strolling through the pig, cattle, goat, and poultry barns, or wandering through the Exhibit Buildings to find out who earned bragging rights with a blue ribbon for their artwork, photography, baked goods, homegrown vegetables, or flowers. Bursting with energy, this five-day celebration is without a doubt one of the best old-fashioned fairs around.
tbvfair.com
Klamath Independent Film Festival Ÿ September 13-15
The Klamath Independent Film Festival (KIFF) is the only Oregon-centric, all-genre film festival in the state. KIFF welcomes shorts and feature-length films either made in Oregon or by filmmakers with Oregon roots. This year's opening gala on Friday night features an outdoor food and drink celebration in the Ross Ragland Theater courtyard followed by the opening feature Phoenix, Oregon, filmed in Klamath Falls.
Saturday the festival presents five feature length films at Pelican Cinemas then returns to the Ross Ragland Theater on Sunday to show 36 short films on the big screen before announcing the KIFF 2019 awards.
The Daily Bagel serves as the KIFF 2019 home base, cooking up food and fun for KIFF attendees and filmmakers. It's also where you can purchase cool festival merchandise. Our most important tip? All three nights you can find the after-party at The Pikey restaurant, an official festival sponsor.
Klamath Basin Oktoberfest & Ride the RimŸ September 21
If you can't make it to the kick-off of Oktoberfest in Munich, Germany, no worries. The first annual Klamath Basin Oktoberfest takes place at the Bill Collier Community Ice Arena at the Running Y Ranch Resort. Affordable and family-friendly, the Klamath Basin Oktoberfest gathers Southern Oregon's best brewers and food vendors, along with games, activities, and live entertainment. Look for highly-acclaimed Skyline Brewing Company and delicious offerings from the Ruddy Duck restaurant.
The Klamath Basin Oktoberfest also takes place the same weekend as Oregon's best-known and epic cycling event, Ride the Rim. Started just six years ago by Discover Klamath Visitor and Convention Bureau, Crater Lake National Park, and the Friends of Crater Lake, Ride the Rim today attracts over 3500 cyclists from all over the U.S. and across the globe between the two weekends (September 14th and 21st). Riders enjoy the indescribable beauty of Crater Lake National Park without any vehicular traffic. For 25 miles, bicyclists experience one of the world's most scenic rides and face a leg-pumping, uphill battle of 3,500 feet. ridetherimoregon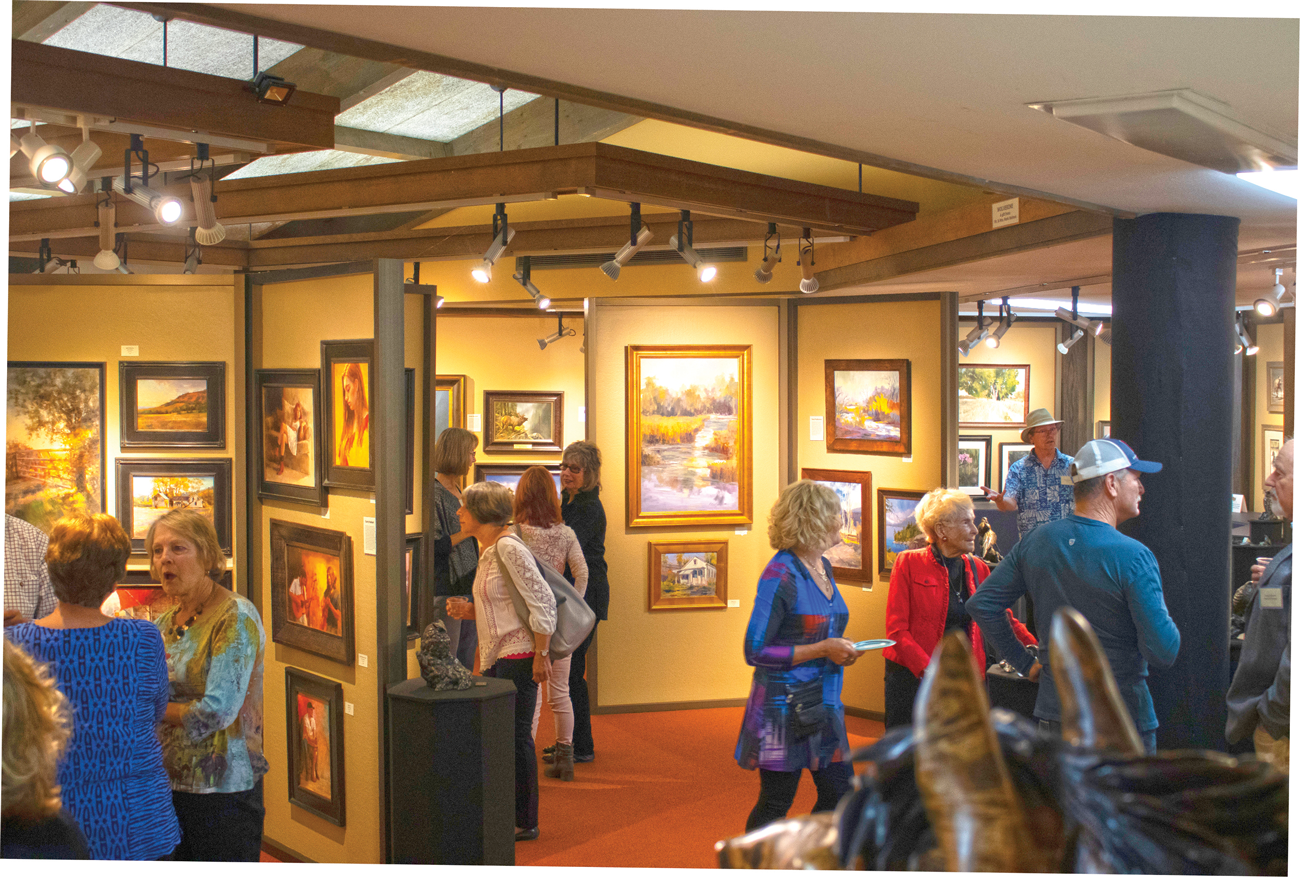 Favell Art Show & Sale Ÿ October 4-6th
Take one-part art show and one-part Indian summer soiree, mix well and you have Southern Oregon's best-kept autumn secret: the region's longest-running art show and a rollicking good time. Thirty-two of America's finest artists showcase their work at the 35th annual Favell Museum Invitational Art Show & Sale in Klamath Falls. Opening October 4-6th, the show features contemporary representational art in oil, pastel, acrylic, water color, bronze sculpture, wood sculpture, and more.
Widely promoted, the show attracts art enthusiasts from across the West. Music, appetizers, and Oregon wine ensure a terrific time for art aficionados and newcomers alike. The show's Friday night opening welcomes museum patrons to a private artists' reception. The show opens to the public Saturday morning when visitors can enjoy wine tasting and watch a plein air exhibition on the banks of the Link River. The Sunday Champagne Brunch promises more inspiration and entertainment. But if you can't attend the opening weekend events, don't worry. The art sale continues through November 16th. www.favellmuseum.org
Klamath Basin Potato Festival Ÿ October 17-19
The Klamath Basin Potato Festival is one of just a few celebrations designated as an official Oregon Heritage Tradition. As the Oregon Heritage Commission says, "If you have attended one of these events, you are truly an Oregonian."
In the 82 years since its inception, this three-day tradition celebrates the bounty of the Basin with barbeque, football, royal courts, and potato bakes. This year's Spud Bowl features Lost River High School versus Corbet. You'll find Pop Warner Football on the field behind the civic center. And the Spud Run welcomes all-comers to its 2-mile walk/5-mile run around downtown Merrill. You won't want to miss Saturday's party with live music beneath the big flag, barbeque at the Civic Center, and Mia's & Pia's beer garden, located behind the iconic Polar Bear hamburger stand. klamathbasinpotatofestival.com
Klamath & Western Railroad Pumpkin Express Ÿ October 19 & 26
Join Klamath and Western Railroad on the Pumpkin Express October 19th & 26th! Head to Train Mountain near Chiloquin, and take a free train ride through the decorated woods of spookytowne. Then get off and find the perfect pumpkin to decorate. Enjoy a lunch, Halloween decorations, and photo ops galore! As always, the train rides are free and donations are accepted. Pumpkins are $3. www.trainmountain.org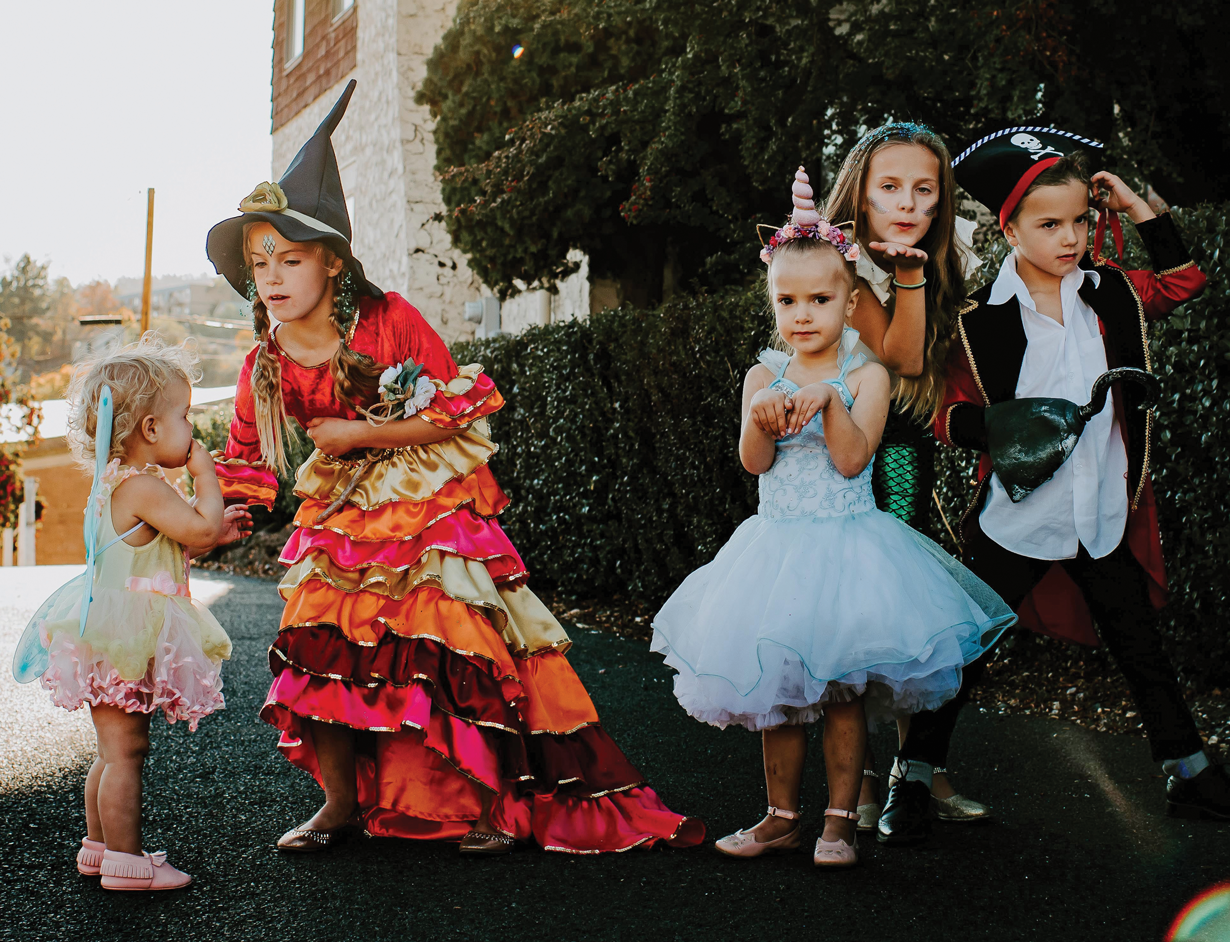 Scarecrow Row Ÿ October 26
A family friendly event to bring out your costumes, participate in the parade, and trick-or-treat down Klamath's Main Street. After you're done collecting the goodies from downtown business, join in on more fun at the Farmers Market for face painting, pumpkin decorating and much more! Admission is free.
www.downtownklamathfalls.org/calendar.html
Written by Jim Chadderdon
— Jim Chadderdon is the executive director for Discover Klamath Visitor and Convention Bureau, Klamath County's official tourism agency since 2009.