Klamath's Community Cookbook
Sharing a meal is a time-honored approach to deepening friendships. Maybe that's why community cookbooks, filled with recipes from family and friends, are so prized. And since few other seasonal ingredients evoke memories of cozy kitchens or family feasts like the pumpkin, we offer a "community cookbook" that celebrates fall's favorite vegetable.
---
Pumpkin Soup
compliments of Ann Cavanaugh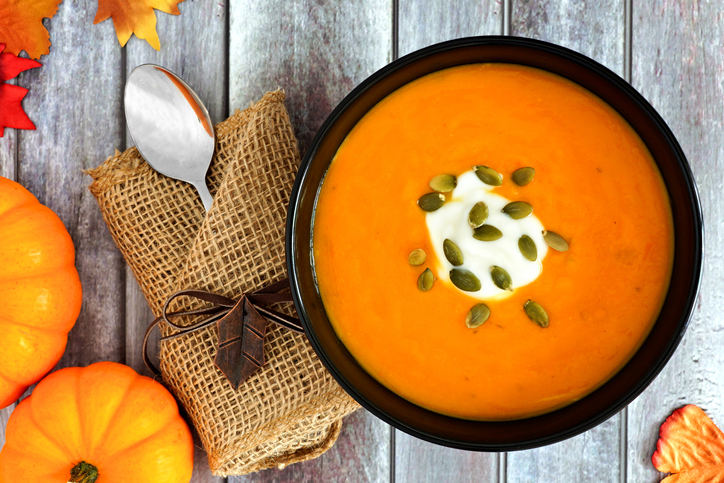 This is more like a fondue. It fills your house with the smell of pumpkin pie and French onion soup.
1 small pumpkin
1 French bread loaf
12 oz Swiss cheese (Emmenthaler, Gruyere or Appenzeller)
1 cup chicken broth
1 ½ cup cream
1 teaspoon salt
black pepper
nutmeg
Preheat oven to 350°. Cut off the top of the pumpkin and reserve lid. Hollow it out. Brush the outside of the pumpkin with oil and place on sheet pan.
Slice and lightly toast the French bread. Grate the Swiss cheese. Layer the toast and cheese inside the pumpkin leaving a half inch on the top.
Mix chicken stock and cream. Add salt, a good grind of pepper, and a pinch of nutmeg. Then fill the pumpkin almost to the top with this mixture, replace the top of the pumpkin and bake for about 2 hours.
Bring the whole pumpkin to the table. When you serve it be sure to scoop out the pumpkin flesh with the cheese and the cream. Serve as an appetizer or with a light second course.
---
Pumpkin Risotto
compliments of Patty Neel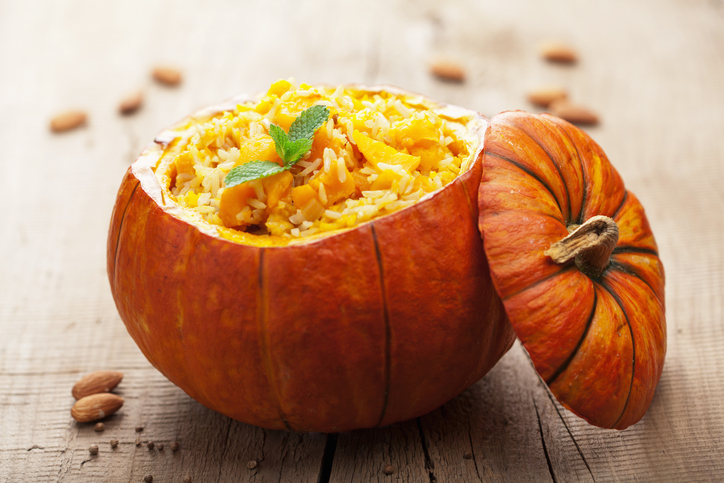 This method eliminates the need to constantly stir the rice and the end result is delicious.
2 tablespoon butter, divided
2 teaspoons fresh sage
½ cup onion, chopped
1 cup Arborio rice
2 cups vegetable stock
½ teaspoon salt
¼ teaspoon black pepper
¼ teaspoon nutmeg
1/8 cup white wine
½ cup canned pumpkin puree (not pie filling)
parmesan cheese, to taste
Melt 1 tablespoon butter in Insta Pot using the sauté function. Add the fresh sage and fry for one minute. Remove and set aside. Add the onions and sauté for 2 minutes. Place the rice in the pot with the onions and stir until the rice becomes translucent.
Deglaze with the white wine and add the salt, black pepper, nutmeg and vegetable stock. Lock Insta Pot lid and set to high pressure for 9 minutes. When finished, do a quick release. Add the canned pumpkin, remaining butter and if too thick, a splash of the vegetable stock, stirring to heat through. Top with parmesan cheese and garnish with fried sage.
---
Gingerbread Pumpkin Trifle
compliments of Victoria Hall
A delicious alternative to pumpkin pie with a showstopping presentation.
1 box gingerbread cake mix
1 box instant vanilla pudding (3.4 oz)
2 cups cold milk
1 15 oz can of pumpkin
½ cup brown sugar
1 teaspoon vanilla
1 teaspoon cinnamon
½ teaspoon nutmeg
¼ teaspoon cloves
¼ teaspoon ginger
2 8 oz containers of Cool Whip
1 Heath Bar
1 Butterfinger candy bar
Bake Gingerbread Cake as directed (using milk rather than water). Let cool then cut into ½ to 1inch cubes.
In a large bowl, whisk milk and pudding mix for 2 minutes. Let stand for 2 minutes or until soft set.
Combine pumpkin, brown sugar, vanilla, cinnamons, cloves and ginger into pudding.
To assemble, layer gingerbread, pudding and pumpkin mixture, and Cool Whip into a trifle bowl. Repeat three times or until bowl is full. Crush candy bars and sprinkle on top. Chill at least 4 hours before serving or overnight.
---
Pumpkin Spelt Scones
compliments of Bonnie Nork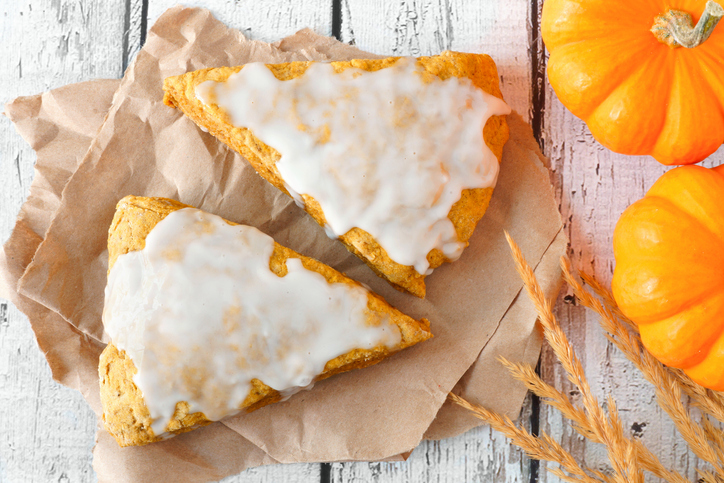 A healthy scone perfect for autumn.
2 ¾ cups whole grain spelt flour
1/3 cup granulated maple sugar (or substitute brown sugar or coconut palm sugar)
2 tablespoon baking powder
½ teaspoon salt
1 teaspoon cinnamon
¼ teaspoon each: nutmeg, allspice, and ginger
¼cup unsalted butter
2-4 tablespoon crystallized ginger
2/3 cup canned pumpkin (not sweetened pumpkin pie mix)
2 eggs
¼ cup milk
Preheat oven to 425°. Grease a sheet pan. Stir together flour, sugar, salt, cinnamon, nutmeg, allspice, and ginger. Cut in butter until mixture has small pea sized clusters in it. Stir in crystallized ginger.
Whisk together pumpkin, eggs and milk. Add the wet ingredients to the dry and stir gently to combine.
Form into a ball. Divide the ball in half. Pat one half into a circle, about an inch thick. Cut in half. Cut each half into three triangles. Repeat with the other half. Place the 12 triangles on prepared sheet pan. Bake 15-17 minutes.
---
Pumpkin Pie Shake
compliments of Bonnie Nork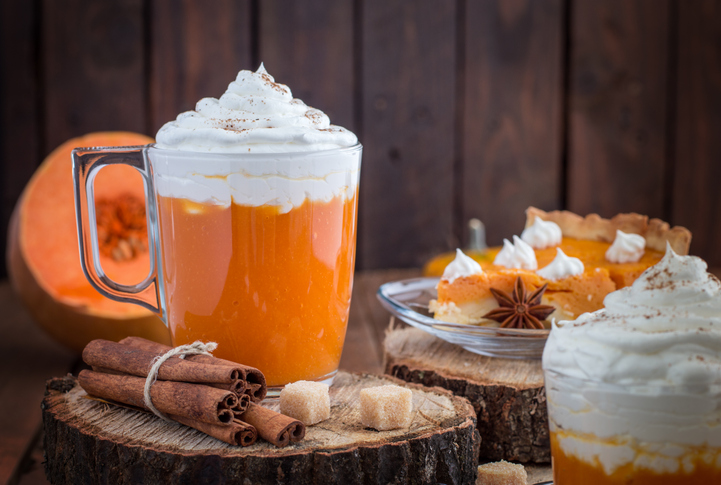 Finish that can of pumpkin with the following smoothie recipe! To make this keto friendly, use Lakanto golden sweetener instead of maple syrup
The rest of the can of pumpkin (about 1 heaping cup)
1 teaspoon pie spice blend
½ teaspoon pure vanilla extract
3 frozen bananas (peeled and in chunks)
1 can of coconut milk
Maple syrup, to taste (about 1-2 tablespoon)
Add all ingredients to a blender. Blend and serve.
---
Bonnie Nork is a local baker who works out of her licensed kitchen. Find her at facebook.com/BonnieNork, Instagram (@BonnieNorksTreats), or call 541-891-6461.