Escaping the great potato famine of the 1800's, so many Irish immigrants came to southern Oregon, it became known as "Little Ireland." Young men leaving the Emerald Isle were told "Don't stop in New York, go straight to Lakeview!"
For 50 years, Lakeview boasted the Ancient Order of Hibernians, the only all-Irish organization in Oregon. A force in the Catholic church, its motto was "Friendship, Unity and True Christian Charity."
Marrying into an Irish family and attending Sacred Heart Catholic Church, friendship, unity and Christian charity surrounded me.
Maybe that's why every year I look forward to celebrating the
patron saint of Ireland, St. Patrick.
In the early 1990's we lived downtown near Will and Wendy St. Laurent, who owned Snowy Butte Meat. Will and my husband Dan spent weeks corning our own beef brisket. Perfecting the St. Patrick celebration recipes over the years, our gatherings grew to become an annual tradition of epic St. Paddy's Day parties with our "Irish" friends.
Later Blair and Marci Henderson graciously hosted the shindig, with a more refined take on our same Irish recipes. We capped the meals with delicious shortbread shamrocks and Irish Coffees while toasting, "May the enemies of Ireland never eat bread nor drink whiskey, but be afflicted with itching without benefit of scratching."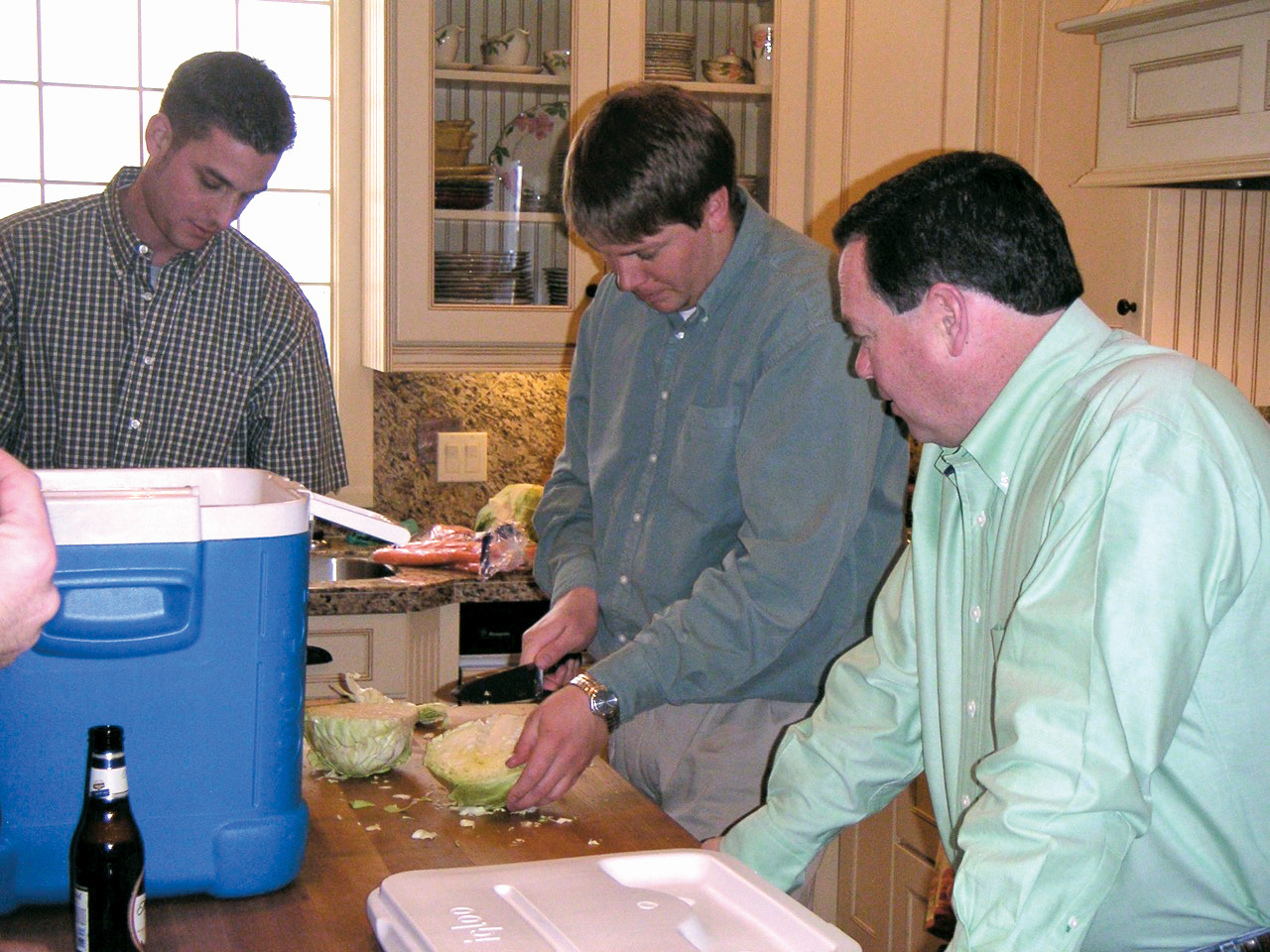 St. Patrick's Day occurs in the Lenten season when Catholics abstain from eating meat on Fridays. One year when March 17th fell on a Friday, Fathers Dreisbach and Crebbin came to the party giving special dispensation so we could enjoy our corned beef tradition with a clear conscience. Another year the celebration's guest list included the local priest, judge, cardiologist, and chief of police, assuring all contingencies were covered.
Once instead of making the fare ourselves, we hosted it at Reames Country Club and provided our recipes to the kitchen staff who mistakenly used beef brisket that wasn't corned. That year we snuck out the back door!
In recent years we've passed the preparations to "The Apprentices," ensuring that the next generation carries forth the tradition with a few new twists. But some menu items remain constant: Black and Tans, Irish Soda Bread, Colcannon, boiled corned beef with cabbage, potatoes and carrots, and Irish Coffee for dessert. We learned to plan on a pound of corned beef per guest. And consider leftovers the luck of the Irish because the next day you'll relish a Reuben sandwich made with the corned beef.
I hope you enjoy these recipes at your own party, because everybody's Irish on St. Paddy's Day!

---
Corned Beef & Cabbage
---
Ingredients:
| | |
| --- | --- |
| 1 ¾ lb | Onions |
| 2 ½ lb | Carrots |
| 6 lb | Corned Beef Brisket (Flat-Cut Preferred) |
| 1 cup | Malt Vinegar |
| 8 oz | Irish Stout |
| 1 tbsp | Mustard Seed |
| ½ tbsp | Black Peppercorn |
| 1 tbsp | Coriander Seed |
| ½ tbsp | Dill Seed |
| ½ tbsp | Whole Allspice |
| 2 | Dried Bay Leaves |
| 3 lb | Cabbage (rinsed) |
| 2 lb | Klamath Basin Red Potatoes |
Serve with:
| | |
| --- | --- |
| ⅓ cup | Coarse-Grain Mustard |
| ⅓ cup | Dijon Mustard |
| ⅓ cup | Tulelake Horseradish with Sour Cream |
Preparation:
Coarsely chop 1 cup each onions and carrots. Place onions and carrots into a 14 to 20-quart pan. Add corned beef with the liquid, vinegar, stout, mustard seed, coriander, pepper, dill, allspice, and bay leaves. Add water to barely cover beef. Cover pan and bring to boil over high heat for 20 to 25 minutes. Simmer until meat is tender when pierced 2 ½ to 3 hours. Meanwhile, cut remaining onions into wedges. Cut remaining carrots into 2-inch lengths. Core and cut cabbage into wedges to make one piece per person. Add onions, carrots, and potatoes to pot of beef. Place cabbage on top. Cover and return to simmer until cabbage is tender 15 to 20 minutes. Remove vegetables with a slotted spoon and place on serving dish. Using tongs and slotted spoon, remove beef to a cutting board; cut off and discard fat. Slice meat across the grain, and place on platter. Serve vegetables and meat with mustards and horseradish sauce. Pair this Corned Beef and Cabbage with Klamath Basin Brewery's Vanilla Porter, award winning and Irish approved!

---
Colcannon
---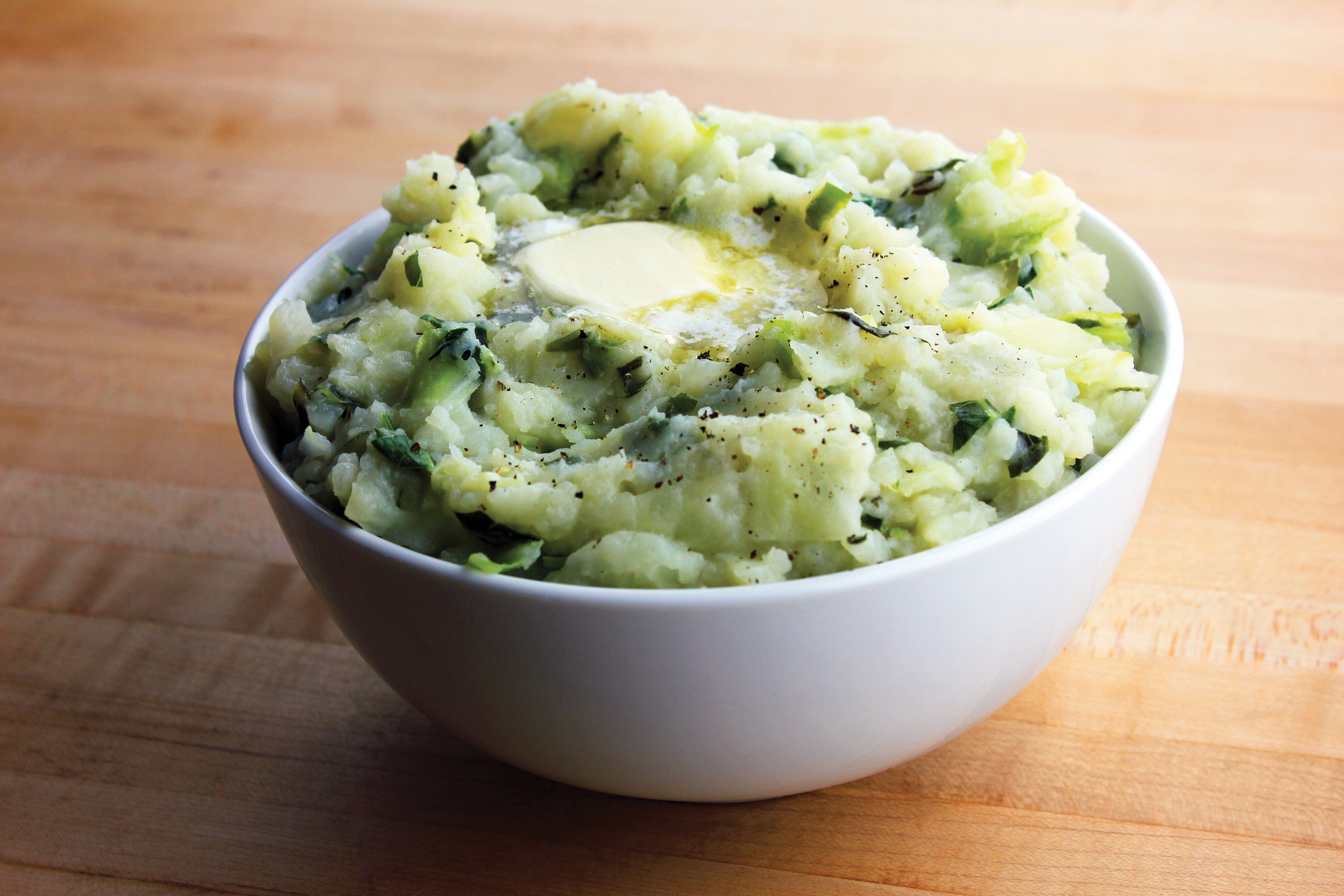 Ingredients:
| | |
| --- | --- |
| 4 lb | Klamath Basin Russet Potatoes |
| 1 lb | Cabbage cut into fine shreds |
| ¼ lb | Irish Butter |
| 1 ¼ cup | Milk |
| 1 cup | Sliced Green Onion |
| Salt and Pepper | |
Preparation:
Peel potatoes, cut into 2-inch pieces. Place in pan and cover with water. Bring to boil, and cook until tender. Reduce heat; simmer until tender when pierced, about 15 minutes. Drain and mash. Cover to keep warm. Place cabbage and butter in pan. Cover and steam cabbage over medium-high heat until well wilted 8 to 15 minutes, stirring often. Meanwhile, stir milk and onions often in a 3-to-4-quart pan over medium heat until simmering, 8 to 10 minutes. Stir milk mixture into potatoes until smooth; stir in cabbage. Season with salt and pepper.

---
Irish Soda Bread
---
Ingredients:
| | |
| --- | --- |
| 3 cups | All-Purpose Flour |
| 3 tbsp | Sugar |
| 1 tbsp | Baking Soda |
| ¾ tbsp | Salt |
| 9 tbsp | Unsalted Butter |
| 1 tbsp | Caraway Seed |
| ½ cup | Golden Raisins |
| ¼ cup | Dried Currants |
| 1 cup | Buttermilk for Dough |
| 1 ½ tbsp | Buttermilk for Brushing |
Preparation:
In a large bowl, combine flour, sugar, soda, and salt. Cut in butter with a pastry blender or rub with fingers until fine crumbs form. Mix caraway, raisins, and currants; add buttermilk for dough. Stir until evenly moistened. Gather dough into a ball and knead about 16 turns on a lightly floured board. Put into a smooth ball, then into a flat 1-inch-thick round. Evenly space round on a greased 12 by 15 inch baking sheet. Slash an X about ¼ inch deep completely across round; brush with remaining buttermilk. Bake at 375° until deep golden, 30 to 35 minutes; switch pan positions halfway through baking. Serve warm or cool.

---
Irish Coffee
---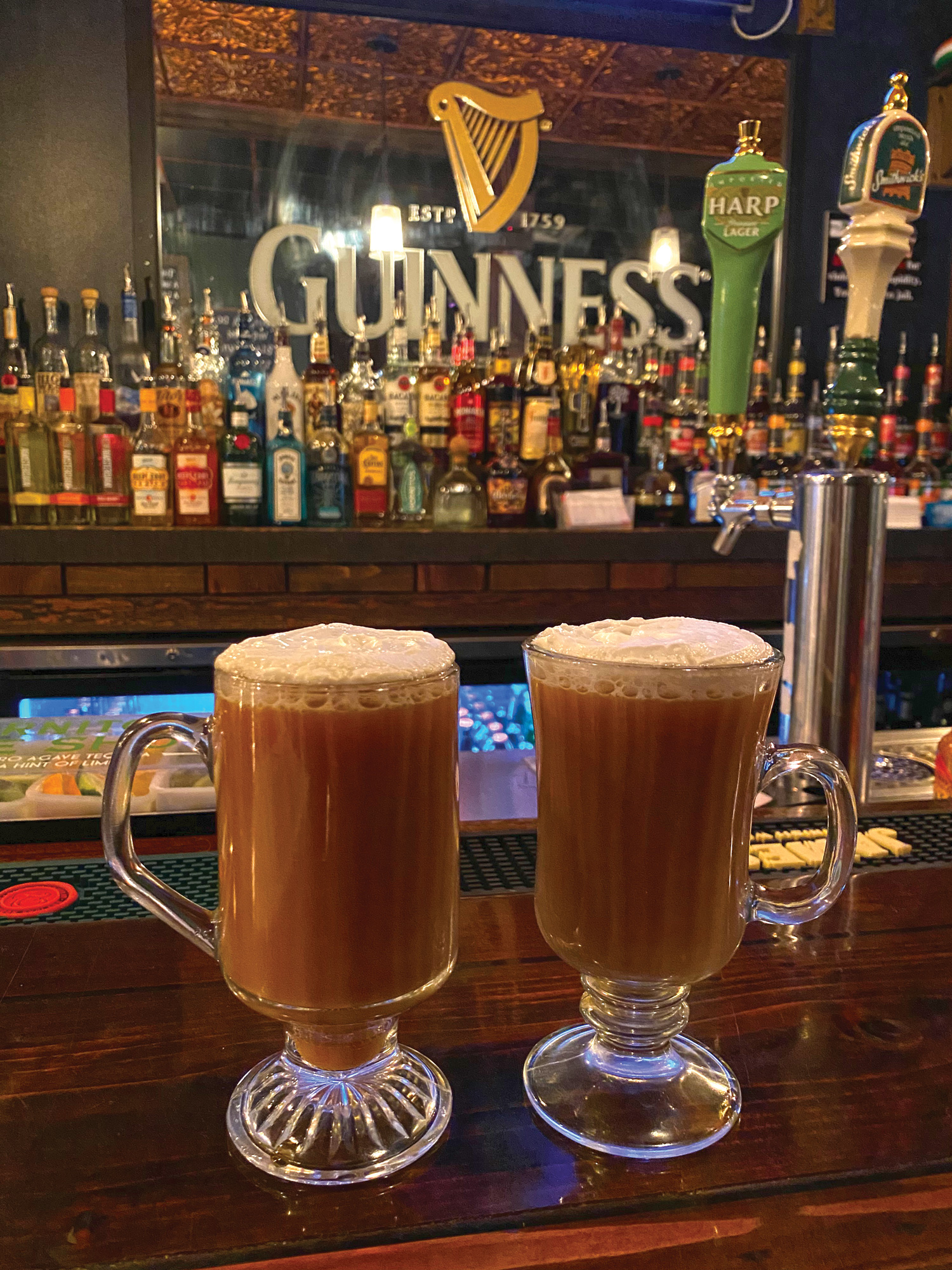 To an Irish coffee mug add 2 cubes of sugar. Pour in 4-5 oz of fresh brewed coffee and mix until sugar is dissolved. Add 1 ½ oz of Jameson's Irish Whiskey. Top with whipped cream. Sláinte!
Set the mood for your St. Patrick's Day party with our sing-along playlists: Irish Sing-Alongs – Basic Irish playlist Use QR Scanner app on your phone to access playlists.